Assignments
Your Percipio admin can assign content to you and specify a due date for completion. Assignments can consist of one or more courses, books, book summaries, audiobooks, audio summaries, videos, Practice Labs, and/or TestPreps.
Assigned content is available on the Mobile App on the My Assignments page, which lists your assignments with the title, description, completion status, and date. Assigned content is listed in order by the due date, with the most recent due date shown first.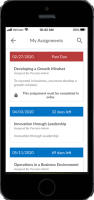 Forced order assignment
You may be required to complete the assignment in the order presented on the page. If you have an ordered assignment, you cannot access certain content within it until the previous content is complete. Completion criteria depends on what the administrator set during the assignment creation. This criteria can be viewed when you launch the content.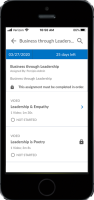 A lock icon indicates the content is locked and you must complete the previous content in order to unlock it.
Mark as complete
Some content has a Mark as complete option on the content card. You must view the content before you are able to mark the content as completed. Once you tap Mark as complete, the status changes to completed and the next content item is unlocked.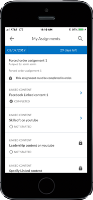 Remove canceled assignments
If an admin cancels an assignment, you get an email from Percipio. You then have the option to remove the assignment from your list.
To remove a canceled assignment, locate it in your list and click the trash can icon,

. The canceled assignment is permanently removed.