LiveEquations®
LiveEquations® is a productivity feature available to subscribers of the EngineeringPro collection. LiveEquations enables users to easily copy a mathematical equation from an EngineeringPro text and paste it into a MathML-compliant package such as Mathematica, Maple®, or Microsoft Office Word 2007 or greater for efficient manipulation and processing.
Getting Started
Note: LiveEquations is compatible with Internet Explorer versions 6 to 9 only. Firefox users must first upgrade to Firefox 1.5 or later.
Internet Explorer users must install version 2.1d or later of Design Science's MathPlayer® plug-in before utilizing LiveEquations. MathPlayer is based on MathML technology and allows Microsoft Internet Explorer to display mathematical notation on Web pages. To check whether you have the latest version of MathPlayer installed, visit Design Science's MathPlayer Installation Check page.
Download the free plugin:

Importing an Equation Using LiveEquations
For Internet Explorer users with the MathPlayer plug-in, the MathML is rendered directly, offering a marked improvement over the image. Internet Explorer displays the equations inline within a yellow box after clicking on the equation. To transfer an equation, right-click on the equation, select "Copy MathML", and then paste it into a MathML-compliant package.
For Firefox users, click on the blue arrow to view the equation in a browser.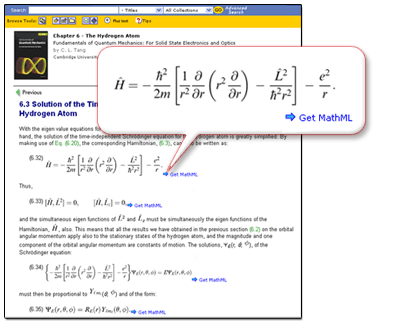 Choose "Firefox.exe" to open the file in a browser. Copy the equation in the browser and then paste it into your MathML-compliant program.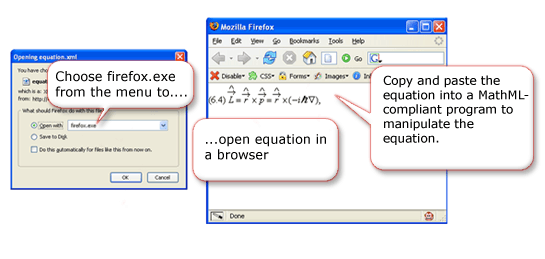 An Internet Explorer LiveEquations Example
In order to manipulate an equation, users can paste the equation into a new document in an analysis program or any MathML-compliant application.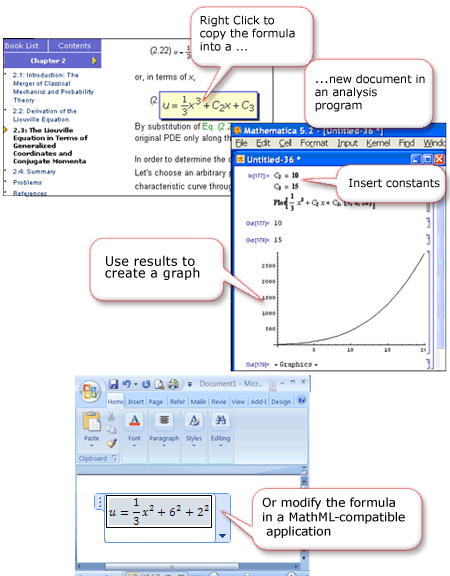 For more information on MathML, view the MathML section of The MathML Handbook.
Also see LiveTables.™