Community Page
Community is a social and collaborative place within Skillport to view top-recommended assets within your organization, make your own recommendations, launch these assets or save them to your learning plan.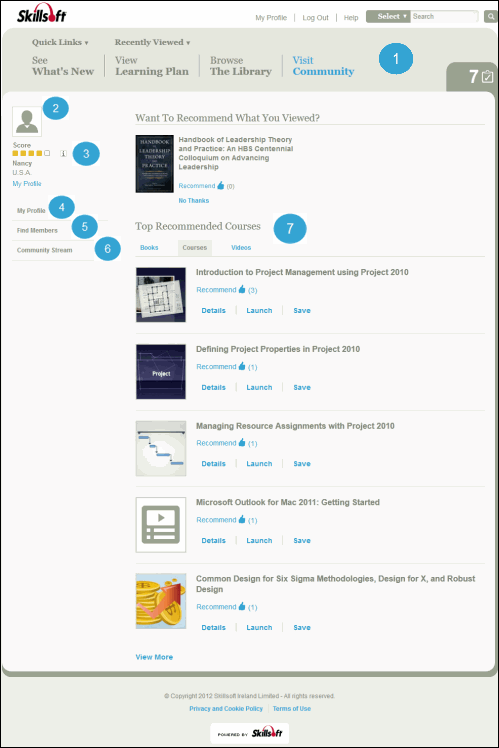 The Skillport Header: The header provides easy access to the most common areas on your site as well as Quick Links, Search, and Recently Viewed items.
Profile picture: You can add or change your picture in the Personal Info section in your profile.
Community Score: Based on your activity and interactions in the community, this score increases over time (up to five blocks) and displays on your community member profile.
My Profile: Enter information for your general Skillport profile as well as create a community profile.
Find Members: Find members in your community. You can choose to follow them and learn about their areas of interest and expertise.
Community Stream: View recent activity within your community, such as who has recently joined, who is following you or another member, recent recommendations and comments, and content that is marked as helpful by other community members.
Top Recommended Assets: View content that community members have recommended. These recommendations are arranged in three tabs and may consist of books, courses, videos, or other content categories that have been popular in the community.
Join Now!: Click to join the community and create your community profile. (Not shown in the image above.)

Note: This link is not visible once you have joined the community.
©2016 Skillsoft Ireland Limited