Learning Programs
"Learning Programs" is a feature that provides Administrators the ability to:
Name a Learning Program
Assign courses to it
Designate completion requirements for complete all, complete in order and minimum duration in hours.
The assignment of a Learning Program will allow the Administrator to follow the current Academy process of creating an assignment for a user or group, and at the time of assignment set the conditions in which the Learning Program is successfully completed, such as type, passing threshold, number of days to complete the assignment, etc. In addition, a Learning Program can have multiple folders assigned to it, each with its own completion requirements, such as complete all, complete in order, or optional.
Note: The passing threshold for a Learning Program is applied to each course within the Learning Program – it is not a cumulative passing threshold.
The user's learning plan will display a single title for each learning program, with (LP) after the title. If you select the Learning Program name, the information about the Learning Program is displayed, including the description.
When the user selects the launch button, a window displays, explaining the steps to take the courses and receive credit.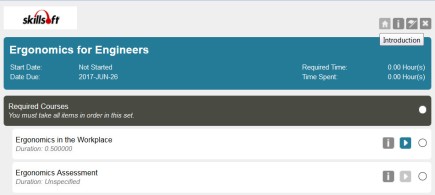 Frequently asked questions

What happens when a learner's audience changes?
If a change in user attributes causes a learner to be removed from an audience that has a Learning Program assignment, and that learner has not completed the entire Learning Program, the learner loses all progress for all courses within the Learning Program. This is true even if the user gets added to a different audience with that same Learning Program assignment. Before making changes that impact compliance audiences, run the Learning Program report so you have a record of learner progress.

Do previous course completions count within Learning Programs?
No, all content within Learning Programs must be completed from within the Learning Program. Completions that happen outside the Learning program, whether historical or current, do not count towards the Learning Program completion.

What happens if I inactivate a Learning Program?
Inactivating a Learning Program removes the Learning Program from all users it's been assigned to. This means that anyone currently In Progress for this Learning Program loses all their Progress. Anyone who completed the Learning Program in full keeps that completion in their historical records and reports.