Percipio Integration Options
Percipio is a SaaS learning experience platform. It provides for three points of integration. You can integrate at any one point or integrate at all three depending on your current learning eco-system configuration.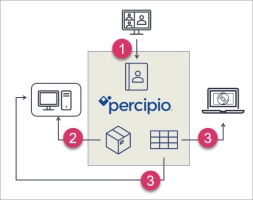 1 - User Accounts: When implementing Percipio, all users need a secure user account in Percipio in order to gain access to content and Percipio features. Percipio can integrate with a SAML Identity Provider for single sign-on (SSO) or an HRIS system to import user data. See User Accounts for all creation and authentication options.
2 - Content: Your users can access Percipio content from another platform. Percipio provides two methods of integration depending on your system:
Connector Integration: Use this method if you want to integrate content on your instance of Cornerstone, Degreed, Saba, SAP SuccessFactors, or SumTotal.
Content Integration: Use this method if you have any other LMS, another system such as SharePoint, or want to integrate Percipio compliance content.
3 - User Activity Data: Percipio stores activity data for all users and content progress. See User Activity Data for API, xAPI and supported statements for getting that data into your record storing systems.