Program Value Dashboard
The Program Value dashboard provides insight into your eLearning program. The highly visual metrics, along with the detailed reports, deliver important information that you can use to understand and manage your organization's learning hours and estimated program value.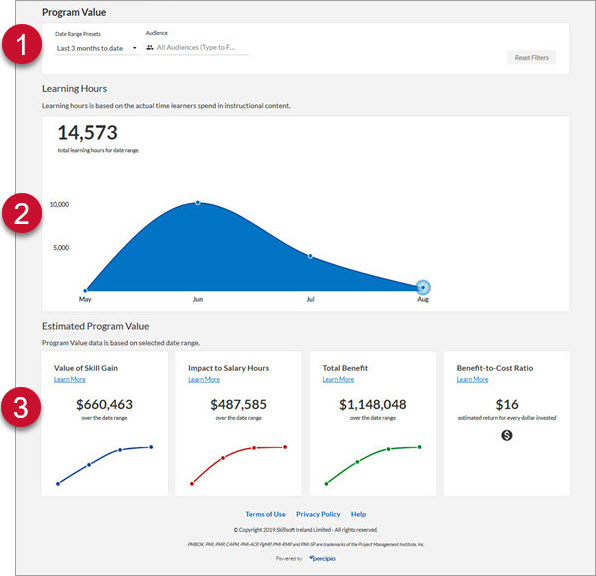 Filters

You can filter data on this dashboard by date range and audience.

Date Range Presets: Filters the data by a specified range of dates from the drop-down list.
AUDIENCE: Predefined group of users. Enter the name of an audience and then select it from the list. You can display the data for multiple audiences at the same time by entering more than one audience name.

Learning Hours chart

Learning hours are based on the actual time learners spend in instructional content. The Learning Hours chart is a view into the total learning hours for your organization. This important metric includes time the learner spent within any of the instructional content (including courses, books, book summaries, audiobooks, audio summaries, labs, TestPreps, tests, live courses (scheduled content), and videos).

Estimated Program Value chart

The Estimated Program Value charts help you gain insight into the ongoing value to your organization accrued through the use of Skillsoft content solutions. The program estimates calculated in Percipio provide financial metrics on how learning impacts your organization in terms of the value of improved skills and of productive time saved. These estimates are standardized and are based in part on financial information provided by your organization and your contract value (not including the Compliance component of your contract).

See Estimated Program Value Charts for detailed information about each of these charts, and about how estimates and adjustments are calculated.

Note: Compliance contract values are not included in the contract values being passed to Percipio for these dashboard calculations.