Audience Management
Audiences are a powerful tool for managing learning in Percipio. An audience is a subset of your user population that you define. For each audience you can manage the allocation of licenses, create content assignments, and filter reports.
Audiences can represent a broad segment of your population (for example, everyone in the same business unit or geographic region) or they can be narrow (for example, everyone on a team that shares the same manager). Audiences can be used to represent a new hire class or a group targeted for leadership development training.
There is no limit to the size of your audiences or the number of audiences that you can create in Percipio.
Audience Management page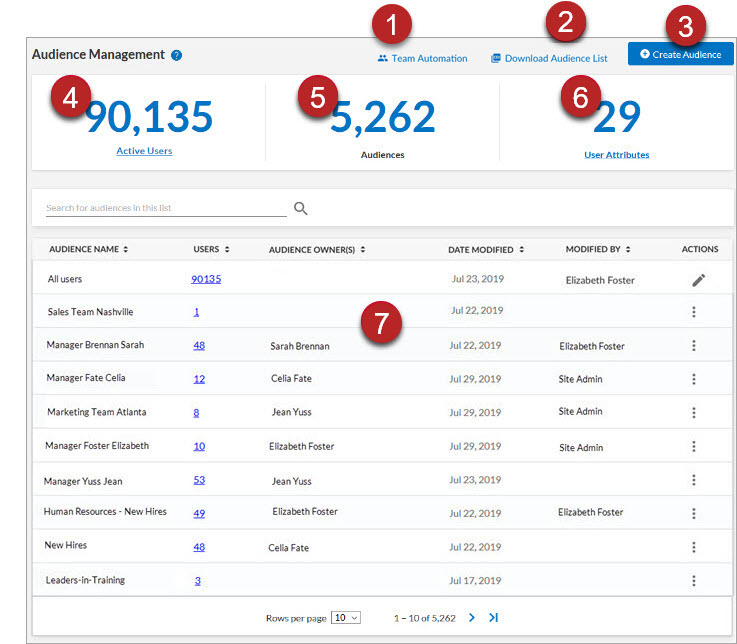 Team Automation: Click to access the team automation, which automatically creates multiple audiences (called team audiences) using a set of rules based on user attribute values.
Download Audience List: Click to download a CSV file containing details for each audience, including the audience name, how many users, audience owner, date last modified, who last modified the audience rule, and how many custom channels are associated with the audience.
Create Audience: Click to create a new audience.
Active Users: An at-a-glance view at the number of active users across your site.
Audiences: The number of audiences on your site.
User Attributes: The total number of user attributes for your site.
Audience list: Information and actions for all of your audiences.

AUDIENCE NAME: The name of the audience.
USERS: The total number of all users (active and inactive) within the audience. Select to see the audience members.
AUDIENCE OWNERS: Audience owners must have a user role of Learning Admin or Manager. Not all audiences need owners. Owners have the ability to run reports on users in their audience and in some cases make assignments.
DATE MODIFIED: The date the audience definition was last modified.
MODIFIED BY: The first and last name of the user who made the last modification.
CUSTOM CHANNELS:The number of custom channels associated to the audience. Select the number to see which channels are associated to that audience.
ACTIONS: You can edit or delete an existing audience, unless it is the All Users audience.
Frequently asked questions about Audience Management