Manage Reports
Use the Reporting feature in Certitude to view learners' completed questionnaires or assessments.
You can run reports to:
See all completed questionnaires or assessments for specific users
See all users who've completed specific questionnaires or assessments
Report results include:
Name and ID of the questionnaire or assessment
Completion dates
Question text and learners' responses
Additionally,
Questionnaires can indicate variant responses
Assessments include the overall score and correct and incorrect answers
To access reports, click

Reports in the Certitude main menu.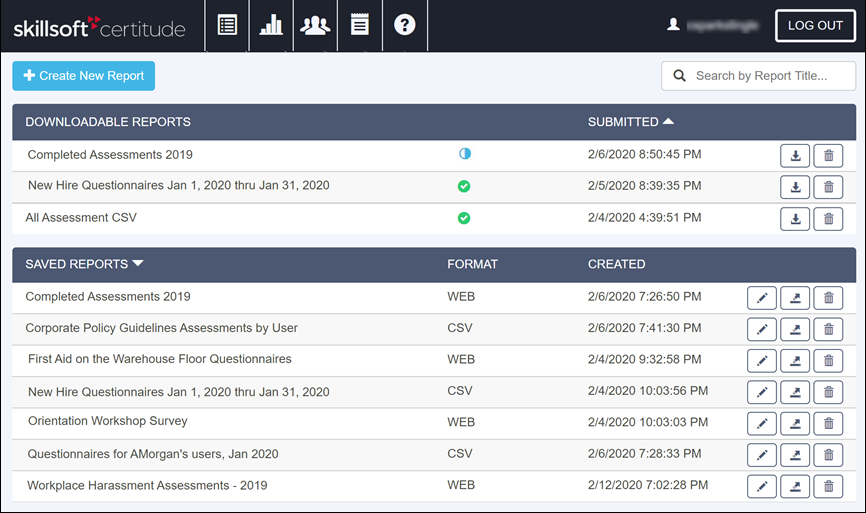 The Reports Main page includes the option to create a new report, and manage downloadable and saved reports. Downloadable Reports are CSV report results available for download. Saved Reports are reports you created in the past that you may want to edit or run later.
You can refine the list of reports in both sections with the Search by Report Title field. See About Search for more information.
Note: The search field refines the list of Downloadable Reports and Saved Reports simultaneously.
For Downloadable Reports you can:
See the report name.
Determine if the report is finished or in progress.
Sort the list by date submitted.
Download the report results.
Delete the report results.
For Saved Reports you can:
Sort the list by name.
See which format a report is saved in. Options are CSV or WEB.
See the date a report was created.
Edit a saved report.
Run a report.
Delete a report.