Percipio Integration Options
Percipio is a SaaS learning experience platform. It provides for three points of integration. You can integrate at any one point or integrate at all three depending on your current learning eco-system configuration.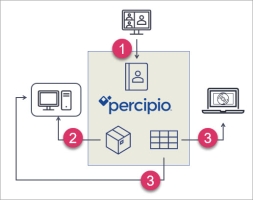 1 - User Accounts: When implementing Percipio, all users need a secure user account in Percipio in order to gain access to content and Percipio features. Percipio can integrate with a SAML Identity Provider for single sign-on (SSO) or an HRIS system to import user data. See User Accounts for all creation and authentication options.
2 - Content: Your users can access Percipio content from another platform. Percipio provides two methods of integration depending on your system:
Connector Integration: Use this method if you want to integrate content on your instance of Cornerstone, Degreed, Saba, SAP SuccessFactors, or SumTotal.
Content Integration: Use this method if you have any other LMS, another system such as SharePoint, or want to integrate Percipio compliance content.
3 - User Activity Data: Percipio stores activity data for all users and content progress. See User Activity Data for options on getting that data into your record storing systems.

Benefits of Integration
Integrating your systems with Percipio brings together content from multiple sources, so that you can offer informal and prescribed learning to upskill and reskill your workforce. Your learners can have access to Percipio elements so they can learn in the flow of work, through social and traditional models including the web app, the Percipio mobile app, Percipio app for Microsoft Teams, and the Embedded Learning Synchronization Assistant (ELSA).
When integrating your systems with Percipio, you choose what content learners see, which elements of the Percipio experience they can use, how they can use it, and where in the learners' experience these elements appear. Percipio collects all learner activity data and delivers it wherever and however you need it.
Integrating with Percipio can have the following benefits:
Learners can sign in using network credentials instead of separate Percipio credentials.
Admins maintenance activities can be minimized for:

Creating new user access
Updating user account details
Deactivating termed users
Assigning content
Maintaining the content

Learners can find all types of content including courses, videos, books, audiobooks, book summaries, interactive labs, and Aspire journeys from one system.
Percipio sends learner activity data back to your LMS or data warehouse so it is in one location for reporting.