Assignments
Your Percipio admin can assign content to you and specify a due date for completion. Assignments can consist of one or more courses, books, book summaries, audiobooks, audio summaries, videos, Practice Labs, TestPreps, live courses, or Aspire Journeys.
The assignment details show the due date, description, and a list of all content contained in the assignment.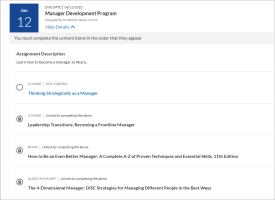 Note:
 You may be required to complete the assignment in the order presented on the page (an "ordered assignment"). If you have an ordered assignment, you cannot access subsequent content until the previous content is complete. Completion criteria depends on what the administrator set during the assignment creation. This criteria can be viewed when you launch the content: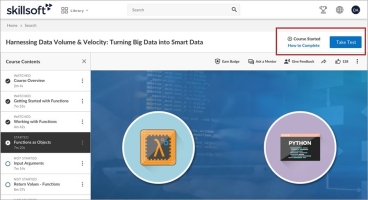 To view your assignments


For web


For mobile
From the navigation menu, tap Assignments, or
From the My Assignments section of the Home page, tap > .
Note: Assignments display in the language in which they are created, and not necessarily in your Percipio site language.
Remove canceled assignments
If an admin cancels an assignment, you get an email from Percipio. You then have the option to remove the assignment from your list.
To remove a canceled assignment, locate it in your list and click the trash can icon,

. The canceled assignment is permanently removed.
Mark content completed
Some content shows a Mark as complete option on the content card or within an assignment.

You must view the content before you are able to mark the content as completed. Once you click the Mark as complete link, the content title displays on your Activity page and the content card shows Completed. Items Marked as Completed cannot be undone.
Note: Mark as Complete is only displayed if the Admin has enabled this setting when the custom content was assigned.