New Features and Enhancements (as of September 25, 2021)
The list of new features and enhancements is organized according to the themes in our Percipio development roadmap.
Note: Updates to the Percipio mobile app typically release within 5 days of the Percipio platform release.
Expanding skills of your workforce
The items in this section provide ways to grow your talent and fill critical skill gaps, building mastery with confidence.

New Percipio app for Microsoft Teams
Microsoft Teams is an access point into your Percipio site (just like the mobile app and ELSA). The app allows you to access Percipio directly through Microsoft Teams, enabling learning in the flow of work, social sharing, team-based learning, and collaborative learning in cohorts.
The app can be installed from the MS Teams app store, be made available company-wide by your IT department, or installed for select users only. Learners can access the entire Percipio site right from Microsoft Teams, including Skillsoft content, linked content, custom content, assignments, recommendations, admin-promoted content, digital badges, and custom Aspire Journeys. In addition, learner activity shows in Percipio reporting.
The app is a feature of Percipio and is available at no additional cost. Get started.

New introductory Live Courses added to select Aspire Journeys with an option to show advanced courses
As part of the merger of Skillsoft with Global Knowledge (GK), introductory Live Courses are now part of select Aspire Journeys as optional items. These are offered as part of the Tech & Dev license at no additional charge. As with all optional content in journeys, the live courses are not required to complete the journey and any previous completions will not be impacted by this addition.
There is also an option to show learners more advanced live courses from GK. Advanced live courses are available for an additional fee.
If you want your learners to be able to see the advanced GK live courses within Aspire Journeys on both desktop and mobile devices, contact your Skillsoft account team.

New Labs from Learn On Demand Systems now available for learners
Learn On Demand Systems (LODS) labs content is part of the Tech & Dev collection, and is available at no extra charge.
Learners can effectively learn cloud technologies by practicing on the labs at their expertise level. Learners locate labs within existing channels and journeys. With LODS labs, learners have only 5 attempts to complete the lab in one sitting. Admins can add the labs in assignments, custom channels, and custom journeys.
For more details, see LODS labs.

Microsoft Learn content now available for learners
Microsoft Learn courses are part of the Tech & Dev collection and available at no extra charge. Learners can find this content within existing Skillsoft channels and journeys and share, like the content, and it to their playlist. Admins can add the content in assignments, custom channels, and custom journeys.
Microsoft content is marked completed on launch.
MS learn content is not accessible. Speak with your Skillsoft account team if you need to hide this content.

Ask a Mentor feature now available within courses
Your learners can now live chat or email a mentor within the course player for select Technology & Developer and Leadership & Business courses. This is in addition to the current ability to access mentors from within a channel.
Ask a Mentor - Course level access is turned on by default. With it on, learners can connect with Skillsoft mentors directly from the course page to get advice and answers to questions via live chat or email. This is great for those learners seeking certifications or studying difficult topics. Ask a Mentor is only available in English.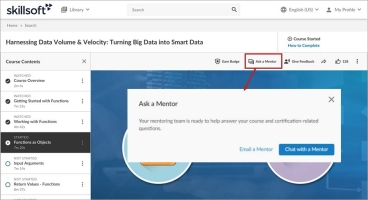 See Site features for more details.
Engaging your learners to build a learning culture
The items in this section provide ways to engage your users so they want to learn and make learning a habit.
No updates for this release.
Manage, promote and measure learning
The items in this section provide the tools you need to manage users and content, promote learning, and measure learning effectiveness on your bottom line.

Title of custom menu category in Library now editable
Admins can now customize and localize the name of the custom menu category that appears in the Library. The menu category previously used the Org name.
To edit the menu category:
From the Content menu, select Areas and Subjects.
From the Custom Menu Category section, select Edit label.
For more details, see Custom menu category.

Self Registration - custom attribute validation now available
When configuring self registration, admins can now have Percipio validate a user's entry for string type user attributes. Validations allowed include:
No validations
Allow only letters
Allow only numbers
Allow only alphanumeric
Allow special characters
For more details, see Self registration.

New content setting to hide non-accessible content
Skillsoft partners with many content providers to bring your learners the best content available. Some partners' content does not conform to accessibility standards as detailed in our Percipio Learning Platform and Content VPAT.
If you only want accessible courses to be available to your learners, you can choose to remove non-accessible content from your site.
To hide non-accessible content, contact your Skillsoft account team.
Ecosystems and Integrations
The items in this section help you to integrate Percipio across your learning ecosystem and promote how Skillsoft works with its partners.

Compliance assignments now show history of changes
Compliance admins can now see all historical actions taken on an individual or audience assignment directly from within the Edit Learning Plan Assignment page. From the bottom, select View complete assignment history. This opens a new tab showing a table containing information about who made the modification, when they did it, what they did, and the resulting change. Each column can be sorted or filtered.

For more details, see View Assignment Historical Actions.

Share links for channels from an LMS now display in recipient's browser language
If a user on an LMS integration accesses Percipio through a sharelink for a channel, the channel (and it's content) is displayed in the recipient's browser language provided that the channel exists in that language. If the channel does not exist in the recipient's browser language, it displays in English.
Usability Enhancements
The items in this section show where we are making improvements to the interface for a better experience.

Engagement & Notification Settings page has a new design
The Engagement & Notification settings page is now divided into the following 4 pages for better user experience:
Email Settings
Email Campaigns
Engagement
Mobile App
All settings are still the same, just re-organized using a left navigation menu structure.

Course player has a new design
The course player now offers a more flexible, optimized viewing experience and responsive design to make it easy to view courses on any type of device — regardless of screen size — along with easier access to other course player features.
New features include:
Ability to collapse Course Contents for a bigger viewing area.
Simplified course status indicator
New action bar with icons arranged in a single row
The relocation of the Overview and Resources tabs to the bottom of the player window.
For more details, see Course Player.