Working with Content
Percipio presents a full range of learning options to meet your learning style and need.
Note: Disable pop-up blockers in your web browser. Some content may be blocked if this setting is not turned off.
On this page, you can get information for:
Available Content types
The types of content available in Percipio include the following:
Add to or remove content from your playlist
Playlists provide a quick and easy way for you to save content that is of interest so you can it take at a later time. By default everyone has a Save for later playlist where they can add items. Your organization may choose to offer you the option to create multiple playlists so you can organize and categorize your content into different playlists. With multiple playlists you have more control to create, edit, remove, and share them.
From any content card, select the More actions menu

and select either Playlist add/remove or Save for later .
When you select Save for later, Percipio adds the item to a generic Saved for Later folder. You can unselect this option to remove the item from the list.
When you select Playlist add/remove, you can add the item to an existing playlist or to a new playlist that you can create. You can also remove the item from a playlist.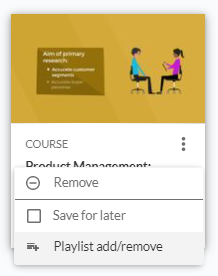 For more information on playlists, see Playlists.
Share content
To share content with others in your organization:
Select Share from the content card of any item. If you launched a book or audiobook, you can share a specific chapter or section when you select Share while in the player.

Choose how you want to share by selecting one of the following:

Select to share a link to a whole book or just a chapter or section. This option only displays if you have the book, audiobook, or book summary open and a chapter or section selected.
Copy a link that you can paste into a:
Choose to send an email directly from Percipio.
Share in MS Teams.
To send an email to another learner:
Specify at least one recipient's email address in Send to. To specify more than one email address, add a comma after each email address. If you specify an email outside of your organization, the user may not be able to log into Percipio to see the content.

Verify that your name appears in Your (Sender) Name.

Add an optional Message, up to 250 characters, letting the recipient know what you think they would find interesting in the content.

Select Send email. Percipio sends the email directly to the recipient. The email the recipient receives contains a hyperlinked image and title of the item shared. When the recipient selects the image or title, Percipio launches. If the recipient is not logged into Percipio, they have to enter their login credentials and then Percipio opens the item immediately, ready for consumption. If the user is already logged into Percipio, the item opens in a new browser tab.
To share the link in Microsoft Teams:
Select Share to MS Teams.
In the new tab, select the person(s), group, or channel.
Enter a personal message.
Select Share. A link to the content item and your message display in Microsoft Teams.
Rate content
You can rate, or "like," content. Content that you like stays visible to you and also gives you a sense of how many other people like a particular course, video, book, or audiobook. This provides you with additional insight when making choices about one piece of content over another, based on how learners across Percipio rate the content.
Likes are cumulative across all Percipio sites, and update in real time.
Remove content from Recent Learning
Items you started display in the Recent Learning tab in the My Learning section of your Percipio home page. If you started something that you realize is not relevant, you can remove it from the tab so you can keep your focus on those items that you want to finish.
To remove an item, from any content card, click the More actions menu

and select

Remove.
Removing content from Recent Learning does not remove it from the Activity page.